Savoy PWR-11 Power Source Video
The NEW Savoy Power Source for Upholstered Contract Furniture – Introducing PWR-11.
The new PWR-11 power source for upholstered furniture is the fun and functional upgrade you didn't know you needed! How often are you caught with a cell phone battery at less than 10%? Now, just imagine how often that happens to your students! Charging up is important to them – both in their rooms and on the move.
With versatility in mind, the inset PWR-11 power source offers students a variety of options to fit nearly any device. These include:
One AC outlet for laptops
One USB-A outlet for items such as tablets and cell phones
One USB-C outlet for newer devices that have transitioned to this smaller power option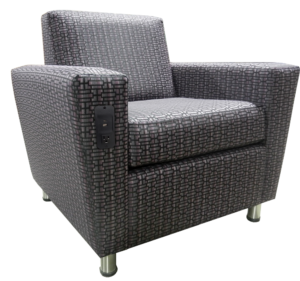 Give your students the perfect space to collaborate on their upcoming group project. Comfort meets functionality when you pair built-in power options with durable, stylish Savoy upholstered furniture.
The new PWR-11 power source is UL Listed.
Please note: due to the size and shape of the PWR-11 power source, there are limits to which upholstery lines can house this option. Please feel free to contact us directly to discuss the perfect solution for your students' lounges.
Have questions regarding any Savoy power sources? Contact us today to learn more!
***
About Savoy
Savoy Contract Furniture manufactures traditional and contemporary styles of furniture for colleges and universities. Over more than 70 years, we've prioritized the growth of our state-of-the-art central Pennsylvania plant. As a result, we utilize the most advanced technology available and handle our orders entirely in house. In short, this allows us the flexibility to custom tailor our products to meet your every need.
Presently, we manufacture 12 styles of casegoods and 20 types of upholstered furniture. Additionally, we provide a variety of tables and chairs for both studying and dining. Furthermore, everything is available with the choice of several finishes and hundreds of fabric options. Client partners can also choose to upgrade their furniture with special hardware and power sources.
Savoy has adopted a customer-centric approach to business. That is to say, we aim to be the best full-service furniture provider for our client partners. We offer assistance throughout quoting, order management, delivery, and installation. However, our service doesn't stop there. All Savoy products come with our industry-leading Limited Lifetime Warranty. To sum it up, we're passionate about helping make your furniture buying experience as easy as possible.
Do not hesitate to send us an email or give us a call (800.233.8953) if we can be of service. We're here to make your job easier.
Savoy Contract Furniture is a registered trademark of John Savoy and Son, Inc.
Let's get social! Follow us on LinkedIn or Like Us on Facebook!