Warranty
Limited Lifetime Warranty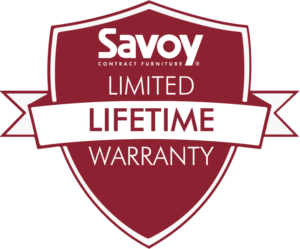 Savoy Furniture offers a Limited Lifetime Warranty on products it manufactures, to the original purchaser, to be free of defects in material and workmanship during the lifetime of the product while in normal use in its intended environment. Specific items such as fabrics, foam, metal, electrical components, mattresses and other resale items are warranted for a period of one year by Savoy Contract Furniture. Additional warranties extended by the manufacturer of the component part or resale item may exceed the one year warranty extended by Savoy. Inquiries can be made to Savoy Contract Furniture Customer Service.
Items reported under this warranty, which have been subjected to misuse, abuse or uses other than those for which they have been intended or simply show normal wear are not covered under this warranty.
All warranty claims must be submitted in writing to Savoy Furniture listing the date of purchase, original invoice number, and description of defect(s). Savoy Contract Furniture reserves the right to repair or replace the item/items at its sole discretion.