Savoy Smart Bed Solutions Video
Your students are smart. Their beds should be, too.
The Savoy Smart Bed is a reliable, time-tested design, available in a variety of styles. Smart Beds offer:
7 Height position options to maximize storage & flexibility.
Tool-less assembly to reduce time & maintenance costs.
Steel inserts screwed into precision machined, tightly fitted channels.
4" of solid post above and below the channel inserts for added durability.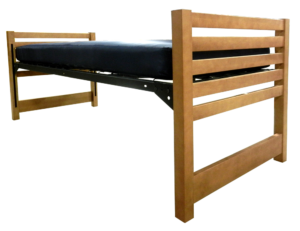 Not only do students have versatility as to which height they would like their bed at, Smart Beds can also be easily converted to a lofted bed or bunked bed. Additionally, Smart Beds are available in a variety of widths and lengths to fit any need.
Savoy Smart Beds are available in a variety of designs that are not only attractive, but also highly versatile. Current options include the traditional Smart Bed, Sedona Smart Bed, Contempo Smart Bed, Pediment Style Smart Bed, Ivy League Smart Bed and Urban Smart Bed.
Have questions regarding our Savoy Smart Beds? Contact us today to learn more!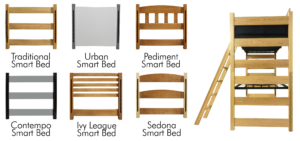 ***
About Savoy
Savoy Contract Furniture manufactures traditional and contemporary styles of furniture for colleges and universities. Over more than 70 years, we've prioritized the growth of our state-of-the-art central Pennsylvania plant. As a result, we utilize the most advanced technology available and handle our orders entirely in house. In short, this allows us the flexibility to custom tailor our products to meet your every need.
Presently, we manufacture 12 styles of casegoods and 20 types of upholstered furniture. Additionally, we provide a variety of tables and chairs for both studying and dining. Furthermore, everything is available with the choice of several finishes and hundreds of fabric options. Client partners can also choose to upgrade their furniture with special hardware and power sources.
Savoy has adopted a customer-centric approach to business. That is to say, we aim to be the best full-service furniture provider for our client partners. We offer assistance throughout quoting, order management, delivery, and installation. However, our service doesn't stop there. All Savoy products come with our industry-leading Limited Lifetime Warranty. To sum it up, we're passionate about helping make your furniture buying experience as easy as possible.
Do not hesitate to send us an email or give us a call (800.233.8953) if we can be of service. We're here to make your job easier.
Savoy Contract Furniture is a registered trademark of John Savoy and Son, Inc.
Let's get social! Follow us on LinkedIn or Like Us on Facebook!