Savoy Study Shield Video
The Savoy Study Shield – Furniture Designed to Keep Your Students Safe
The Savoy Study Shield – Helping Students Return to Campus Safely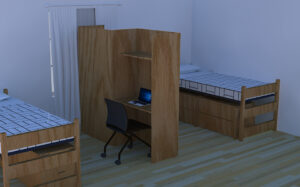 Welcoming your students back to campus is going to be exceptionally stressful this year: If there is one thing schools, students, and parents are worried about, it's how to stay safe on campus.
With more than 300,000 square feet under roof, Savoy has always been proud to offer our client partners custom-tailored furniture solutions. Now more than ever, we're thankful for our versatile, in-house engineering and design team, eagerly working to help support you in any way we can.
To help schools provide COVID-19 sensitive housing for their students, we've developed The Savoy Study Shield: a new, enclosed work space that provides students a safer, more private, study option.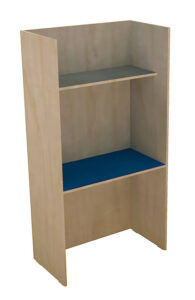 The Savoy Study Shield – A Safe Solution for Any Room
Available in Oak or Maple/Birch Veneer Core Premium Plywood
Added Privacy Barrier Helps Encourage Social Distancing & Can Be Used as a Room Divider
Select from Any of Our Many Wood Finish Options
Add an LED Task Light to Shelf to Help Students Work
Request Additional Shelves for Added Storage
Add Coat Hooks to Backs of Units
Customize Your Look with a Special HPL Work Surface
Add Cork or Fabric to Create a Fun and Functional Accent
If you're looking for a way to help keep students safe when they return to campus, we're here to help. We have furniture designed with you in mind and we are not experiencing delays in order delivery.
Let's work together to get your students back where they belong – safe and happy on campus. Contact us today to get started.
***
About Savoy
Savoy Contract Furniture manufactures traditional and contemporary styles of furniture for colleges and universities. Over more than 70 years, we've prioritized the growth of our state-of-the-art central Pennsylvania plant. As a result, we utilize the most advanced technology available and handle our orders entirely in house. In short, this allows us the flexibility to custom tailor our products to meet your every need.
Presently, we manufacture 12 styles of casegoods and 20 types of upholstered furniture. Additionally, we provide a variety of tables and chairs for both studying and dining. Furthermore, everything is available with the choice of several finishes and hundreds of fabric options. Client partners can also choose to upgrade their furniture with special hardware and power sources.
Savoy has adopted a customer-centric approach to business. That is to say, we aim to be the best full-service furniture provider for our client partners. We offer assistance throughout quoting, order management, delivery, and installation. However, our service doesn't stop there. All Savoy products come with our industry-leading Limited Lifetime Warranty. To sum it up, we're passionate about helping make your furniture buying experience as easy as possible.
Do not hesitate to send us an email or give us a call (800.233.8953) if we can be of service. We're here to make your job easier.
Savoy Contract Furniture is a registered trademark of John Savoy and Son, Inc.
Let's get social! Follow us on LinkedIn or Like Us on Facebook!