Help Your Students *Connect* with the Link Collection.
January 30, 2018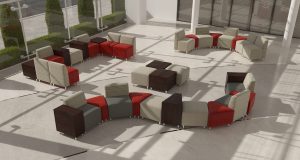 Think Link.

Add value to any of your existing lounges, lobbies, or small study spaces with our simple yet stylish Link Collection. With just six pieces. this collection is intended to offer you and your students the most flexibility in your common rooms.

What Makes this Collection so Popular:
-Adjustable, brushed stainless steel 4″ feet provide a stylish, modern look and make for easy cleaning underneath.

-Single armless chairs, ottomans and wedges allow students to easily create the perfect seating layout to socialize or collaborate on group projects.

-Create a one-of-a-kind look with the ability to do a two-tone appearance on chairs, as well as combine upholstered seating with wooden table surfaces.

-The room layout combinations are endless! Additionally, tall, wooden half-cubes and tall, wooden wedges help mix up room designs by throwing an attractive dimensional variation in the mix.
Looking to add some style and versatility to one of your common rooms this spring? Think Link! Let's get started!