Lisa Knecht Joins the Savoy Sales Team!
December 19, 2022
Lisa Knecht joins Savoy as Sales Support Specialist
We're excited to announce the newest addition to the Savoy Sales Team: Lisa Knecht, Sales Support Specialist!
Lisa has more than six years of experience in a variety of industries, ranging from retail and manufacturing/production to healthcare. Throughout these different roles, Lisa has mastered a vast assortment of skills, such as customer service, project management, order flow, and working well with others in diverse settings and situations.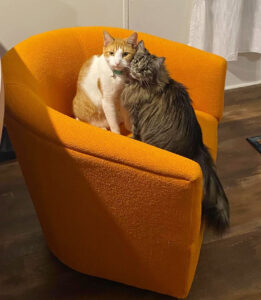 New to the area, Lisa commonly splits her time between exploring new things locally and travelling to her hometown to visit with her friends and family. In her spare time, Lisa enjoys spending time with her boyfriend and their pets (who also love Savoy Twister chairs.)
Please join us in welcoming Lisa to Savoy!
***
About Savoy
Savoy Contract Furniture manufactures traditional and contemporary styles of furniture for colleges and universities. Over more than 70 years, we've prioritized the growth of our state-of-the-art central Pennsylvania plant. As a result, we utilize the most advanced technology available and handle our orders entirely in house. In short, this allows us the flexibility to custom tailor our products to meet your every need.
Presently, we manufacture 12 styles of casegoods and 20 types of upholstered furniture. Additionally, we provide a variety of tables and chairs for both studying and dining. Furthermore, everything is available with the choice of several finishes and hundreds of fabric options. Client partners can also choose to upgrade their furniture with special hardware and power sources.
Savoy has adopted a customer-centric approach to business. That is to say, we aim to be the best full-service furniture provider for our client partners. We offer assistance throughout quoting, order management, delivery, and installation. However, our service doesn't stop there. All Savoy products come with our industry-leading Limited Lifetime Warranty. To sum it up, we're passionate about helping make your furniture buying experience as easy as possible.
Do not hesitate to send us an email or give us a call (800.233.8953) if we can be of service. We're here to make your job easier.
Savoy Contract Furniture is a registered trademark of John Savoy and Son, Inc.
Let's get social! Follow us on LinkedIn or Like Us on Facebook!