Casegoods Construction 101. 🎓 Chapter 3: Hinges
June 24, 2020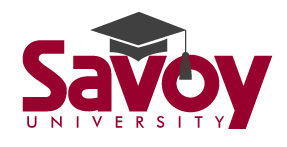 Casegoods Construction 101
5 Minute Read
Chapter 3: Hinges.
While raw materials and construction methodology are keystones in the manufacturing of contract furniture, hinges also play a pivotal role in the quality of casegoods.
There are three main types of hinges commonly seen in the commercial furniture industry: Piano Hinges, Knuckle Hinges and European Hinges. Each of these options provide unique offerings and looks to your furniture, while also demonstrating varying levels of quality.
Hinge Types
European Hinges 
European Hinges, also referred to as Concealed Hinges, are a moderately inexpensive joinery option that were originally created for low-stress areas, such as residential cabinets. However, they have recently been introduced to some contract furniture markets.
These hinges are made of two components: a hinge with a pivoting arm and a mounting plate to which the arm connects.
While this concealed hinge visibly offers a modern and sleek joinery option, this hinge was not designed for demanding use. These hinges typically leave the joint vulnerable and do not ensure a long life for your products.

Piano Hinges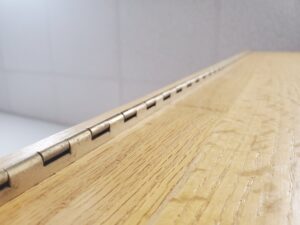 Piano Hinges are most notably known for attaching the heavy piano lids to the rest of the instrument body, which makes them an excellent option for mounting heavy doors to wardrobe cases. These hinges cover the entire length of the two objects being joined together and are also used in everyday objects such as shower doors, toolboxes and folding wall partitions.
While this option may be considered a bit of an eye-sore by some, Piano Hinges offer continuous support along the entire length of the door and are a reliable option for safety and durability.
Knuckle Hinges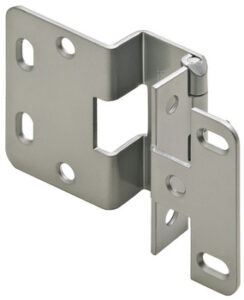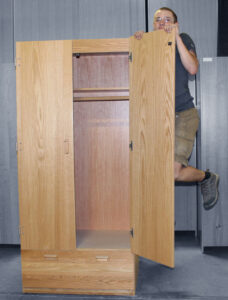 When providing furnishings to demanding, high-traffic environments, your most durable option is a Knuckle Hinge. Knuckle Hinges use sturdy mounting plates on both surfaces being joined together and the 'knuckles' are the points in the joint where these two plates meet. There is then a hinge pin that slides into the knuckles, uniting the two plates and allowing the hinge to swivel open and closed – some even allow doors to open up to 270°.
Knuckle Hinges are sold in a variety of quality levels and knuckle quantities. When selecting your furnishings, you'll want to ensure that your Knuckle Hinges are made from a durable steel, include no less than five knuckles and offer as much range of motion as the space in your rooms will permit. A wardrobe with the right hinges can even support the weight of a full grown man hanging on the door!
Extra Credit: Hinge Installation

While the type of joinery used on your casegoods is important, hinges are only as strong as how they're installed.
Some companies will use basic, 3/8" or smaller screws to install hinges into the doors and cases, which can easily chew away at the material over years of use – especially if your furniture is made from particleboard instead of a veneer core premium plywood.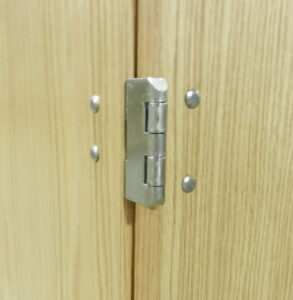 A superior method to look for is the through bolt. Through bolts use bolts the entire thickness of the panel and screw into a barrel nut with knurls that is securely fastened to the outside of the case and door, preventing any sort hardware failure at the hinge. This provides the most holding power available for your casegoods' construction. To determine if the casegoods you're considering utilize this option, check the furniture to see the barrel nuts, which should be easily visible at the hinge locations on the case and door.
Course Summary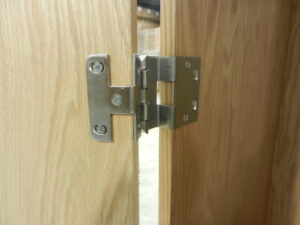 After confirming that your casegoods are made from a premium veneer core plywood utilizing construction methods such as English Dovetails, 5-sided drawers and durable, 100 lb drawer slides, your next item to check off the 'must have' list is sturdy, 270° Knuckle Hinges if you want to ensure your furniture is built to last. Even products made from superior raw materials can fail if proper construction methods and componentry aren't utilized. To ensure your furniture can withstand the rigorous life of your students, without the added hassle of maintenance agreements or bothersome, regular repairs, you'll want to look for a vendor that doesn't cut corners on quality.
Would you like to learn more about what to look for to determine the quality of furniture? Let's chat! Send us an email or give us a call at 800.233.8953 to learn more about quality materials and construction methods.