Redefining Residence Hall Furniture – Introducing the Alchemy Collection
February 18, 2021
Introducing the New Alchemy Collection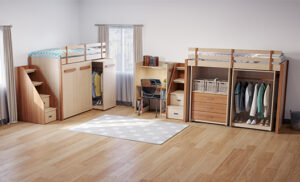 Redefining Residence Hall Furniture
Savoy is excited to share with you the brand new, versatile Alchemy Collection – a full room solution pairing fun with function.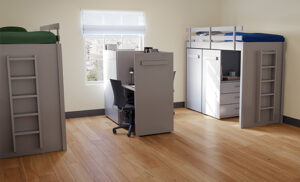 The 
Alchemy Collection
 showcases chests, wardrobes, and desks, all on casters, allowing your students to easily move them around the room. High backs on each piece give your students the ability to create room dividers for added privacy and to help promote social distancing. If the units are no longer in use and the student does not want to leave them out, all pieces store neatly back under the lofted bed, allowing for maximum floor space.
The 
Alchemy Collection
 offers you the flexibility to meet your space needs, whether you're furnishing smaller singles or are trying to create better living arrangements for students living in double- or triple-occupancy rooms.
Like all other Savoy casegoods options, the
Alchemy Collection
 is manufactured in our 300,000+ square foot plant in Pennsylvania. Because we make everything in America, we can customize your products with useful additions, such as LED desk lights and a variety of power sources, while creating the look you want with any of our great wood finish options, as well as premium laminates on work surfaces.
Are you looking for a stylish, versatile furniture solution for your students?
Let us help!
***
Savoy Contract Furniture manufactures all of our traditional and contemporary styles of furniture in our state-of-the-art central Pennsylvania plant, utilizing the most advanced technology available. Handling all orders in-house allows us the flexibility to custom tailor our products to meet your every need. Presently, we manufacture 10 styles of casegoods, 20 styles of upholstered furniture and infinite combinations of tables and seating. Everything is available with the choice of several finishes and hundreds of fabric selections.
Do not hesitate to send us an email or give us a call (800.233.8953) if we can be of service – we're here to make your job easier.
Savoy Contract Furniture is a registered trademark of John Savoy and Son, Inc.